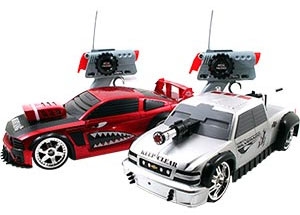 Battle Machines
The Battle Machines Radio Control Laser Combat Tag game from Jada is a pair of two highly styled American cars equipped with infrared cannons and rear sensors. The aim of Battle Machines is to shoot your opponent 3 times which will disable their Battle Machine. There are built-in scorekeeping "Shield Level Indicators" which show you when you have been hit.

The first and second hits will stop Battle Machines in their tracks and give out damage sound effects, the third and final hit will cause out of control driving with explosive sound effects resulting in ultimate shut down!

Controlling Battle Machines via radio control with Radio Control Laser Combat is just part of the fun giving an element of excitement that takes Radio Control to the next level of play. The radio controllers allows you to drive your Battle Machines strategically into a position where you can tag your opponent by pressing the fire button.

All Battle Machines include Tri-band technology and you can battle up to 6 cars at once!
Compare Prices for Battle Machines RC


---
Battle Machines Technical Details;
* Set of 2 Battle Machines - a red Ford Mustang and Silverado Chevy Dooley
* Use the controller to shoot your opponent until their vehicle is disabled.
* Built-in scorekeeping "Shield Level Indicators" show when you have been hit.
* First two laser hits will stop your car in its tracks and trigger damage sound effects.
* Final laser hit will activate explosive sound effects, causing ultimate shut down!
---