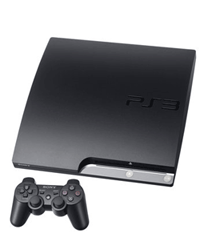 PlayStation 3 Slim
Another of our predicted top ten toys for Christmas 2009 here at Christmas Gift Expert is the stunning new slimline version of the fantastic games console Playstation 3.

The New PS3 Console comes with IBM's "Cell" processor and a co-developed Nvidia graphics processor that both allow the new PS3 to perform an astonishing two trillion calculations per second. This makes the all new PlayStation 3 slim 40 times faster than the PS2. The new PS3 Slim has the traditional AV and composite connections as well as an HDMI port which will give you uncompressed, unconverted digital imagery and sound to HD TV.

The pre-installed 120 GB hard disc drive of the new PS3 Slim allows ample room to download content from the internet as well as save games. The PlayStation 3 Slim is capable of 128-bit pixel precision and 1080p resolution for that full HD experience and also provides for a great sound experience by supporting Dolby Digital 5.1, DTS 5.1, as well as Linear PCM 7.1.
Compare Prices for PlayStation 3 Slim


---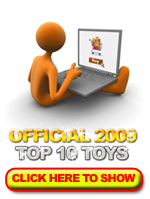 PlayStation 3 Slim
The controller of the stunning New PS3 Slim holds a fantastic high-precision sixaxis sensing system feature that accurately tracks fine shifting in pitch, roll, and three dimensions of movement. Because of this future PS3 games will be controlled by the movement of your hands as opposed to just your thumbs.


The new controller looks much like its Dual Shock predecessor but unfortunately will lack the force-feedback vibration as that would only interfere with the sensing system. The PS3 slim uses Bluetooth technology and can support wireless controllers and if your controller was running low on power, simply pause your game and connect a USB cable then continue playing while the controller automatically recharges itself.

PlayStation 3 slim games come on the Blu-Ray disc media format and can hold six times more information than standard DVDs and this increase in capacity will deliver mind-blowing games once manufacturers have learned how to fully harness the PlayStation 3 slim's power.

PlayStation 3 slim software updates version 2.20 and up includes BD Live support so you can play discs that support Blu-ray Disc Profile 2.0 and you can also connect to the Internet while playing discs that support this format enabling you to obtain additional features. The PS3 Slim 2009 will also support CD-ROM, CD-RW, DVD, DVD-ROM, DVD-R, DVD+R formats.
---
Home Page | Best Christmas Toys 2009 | Top 10 Christmas Toys | Top 10 Christmas Gifts 2008 | Childrens Christmas | Christmas Toys | Christmas Presents | Christmas Gifts | Waybuloo | Ben 10 Alien Chamber | Peppa Pig Princess Palace | Transformers Bumblebee Helmet | Bop It | VTech Kidizoom Camera | Bakugan Battle Arena | Playstation 3 Slim | DSi Console | Rubiks 360 | Christmas | Christmas Cards | Christmas Decorations | Christmas Gifts at Amazon | Christmas Gifts at Dixons | Christmas Gifts at John Lewis | Christmas Gifts at Toys R Us | Sitemap