Peppa Princess Palace | Kevins Action Cruiser | Sylvanian Caravan | GX Tightrope Terror | Voyager Optimus Prime | Bendaroos Mega Pack | Monopoly City Game | LEGO Minotaurus | vTech Kidizoom Camera | Mega Bloks Battle Strikers | cBeebies Waybuloo | Ben 10 Alien Chamber | Transformers Bumblebee Helmet | Bakugan Battle Arena | Rubiks 360
Waybuloo Plush Toys & Playsets
Toys based on the hit children's programme Waybuloo are set to become a Christmas craze this year after they started flying off the shelves of a supermarket and are a certainty to be amongst this years top 10 . The Waybuloo toys range comprises of Waybuloo playsets, 2 talking waybuloo figures: waybuloo talking de li and waybuloo talking nok tok, both plush figures are approx 12″ in height and 2 peek and pull figures which look like being the most sought after of the waybuloo toys, first is waybuloo peek n pull lau lau and then waybuloo peek n pull yojojo. The range is set to be a bestseller for Christmas Gifts for kids this year and has already become a must-have for every toddler.

Andy Myall, Editor of toy industry magazine Toys 'n' Playthings, said: "Pre-school brands are often the most sought after in the toy market, as parents look to give their youngest kids Christmas Presents featuring their favourite TV shows.

"With the large amount of promotion this year for both the programme and forthcoming activity around the toy line, it's looking like Waybuloo is going to be a big pre-school craze for Christmas 2009 and so mums and dads will have to start shopping early for the characters whilst they're in stock."

Here at Christmas Gift Expert we have a fantastic range of Waybuloo Christmas Toys and doing your Christmas toy shopping with Christmas Gift Expert could'nt be any easier...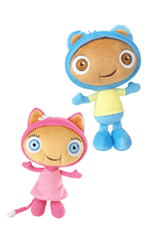 Waybuloo Talking Plush Figures
The talking figurines are based on the characters in 'Waybuloo', the latest hit programmed aired on the CBeebies channel. Its creators hope the show, which first aired in May, will become as popular as 'Teletubbies' and 'In The Night Garden'. Waybuloo, aimed at pre-school children, is set in the fictional land of Nara.

De Li is a little shy but happens to be the most nurturing Pipling. De Li's nurturing instinct reveals itself in a love of nature, gardening and gathering food for the other three Piplings.
De Li is thoughtful, caring and loves gardening!
Nok Tok loves a challenge and just adores mending and building in his Waybuloo workshop.
He is practical and inventive and at his happiest when he's making things.

See them come to life with the Waybuloo Talking Nok Tok and Waybuloo Talking De Li plush toys! Press their tummies to hear your favourite Waybuloo phrases from the show and lots of cute melodies too.
Compare Prices for Waybuloo Talking Plush Figures


---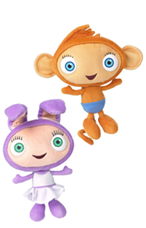 Waybuloo Peek and Pull Figures
Peeka Lau Lau's ears drop down when you squeeze her belly and young children can have so much fun playing peek-a-boo by raising and lowering her ears.

Lau Lau enjoys a game of peek-a-boo as much as any cheebie (child) and now they can play together with the Waybuloo Peeka Lau Lau toy.
The Lau Lau Pipling also speaks and sings her special Waybuloo song.

The Peek & Wiggle Yojojo is as cheeky in the real world as he is on Waybuloo. Press Yojojo's tummy for a variety of phrases from Waybuloo and watch his monkey-like ears move to the music of his Waybuloo signature tune.

Waybuloo Peek and Wiggle Yojojo and Waybuloo Peeka Lau Lau from the CBeebies Television show are expected to be the most sought after toys for under fives this Christmas.

Compare Prices for Waybuloo Peek and Pull Figures


---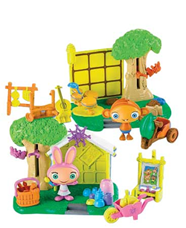 Waybuloo Playsets
Lau Lau is the most spiritual Piplings and is calm and insightful, particularly floaty and is the best at Yogo (a magical style of yoga). Lau Lau thrives when she's dancing or painting and is very creative. The Waybuloo Lau Lau Playset is the ideal place for her to hang out! The Waybuloo Lau Lau Playset comes with a Lau Lau figure and 4 adorable little accessories.

Yojojo loves to play his handmade Pipling pipes, banjojo and drums.
You can know play in the land of Waybuloo with the fantastic Nara Yojojo playset.
The Waybuloo Yojojo Playset includes Yojojo figure and his Music Studio with 4 magical individual play pieces with a fun lifting feature in the tree so that Yojojo can be "floated" off the ground.

These fantastic Waybuloo Playsets are simply perfect for inspiring cheebies (childrens) imaginations and encouraging role play and would make perfect gifts for Christmas 2009.

Compare Prices for Waybuloo Playsets


---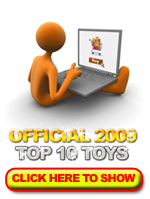 About Waybuloo
Waybuloo is unique in its exploration of emotions and relationships, taking children on a journey through stories of co-operation, friendship and enjoyment.

Waybuloo takes place in the world of Nara; a land of happiness, laughter and friendship that's home to the Piplings.

The four Piplings are happy, loving and caring creatures that are inquisitive and playful: Yojojo is full of fun, he's mischievous and loves surprises. Lau Lau is creative and thrives when she's dancing or painting. Nok Tok is practical and inventive, he's happiest when he's making things. De Li is thoughtful, caring and loves gardening.

When Piplings experience pure happiness they achieve Buloo and rise gently into the air.

The Piplings practice Yogo, a gentle form of exercise which is similar to yoga. The movements are often inspired by things that the Piplings see in Nara like birds, trees and narabugs.

The 'Call to Yogo' happens when the sunlight shines on the coloured crystals of the ancient Yogo machine; it starts to turn and makes a beautiful sound. When Piplings hear this sound they stop what they're doing and meet in front of the Yogo machine.
---
Home Page | Best Christmas Toys 2009 | Top 10 Christmas Toys | Top 10 Christmas Gifts 2008 | Childrens Christmas | Christmas Toys | Christmas Presents | Christmas Gifts | Waybuloo | Ben 10 Alien Chamber | Peppa Pig Princess Palace | Transformers Bumblebee Helmet | Bop It | VTech Kidizoom Camera | Bakugan Battle Arena | Playstation 3 Slim | DSi Console | Rubiks 360 | Christmas | Christmas Cards | Christmas Decorations | Christmas Gifts at Amazon | Christmas Gifts at Dixons | Christmas Gifts at John Lewis | Christmas Gifts at Toys R Us | Sitemap