Peppa Princess Palace | Kevins Action Cruiser | Sylvanian Caravan | GX Tightrope Terror | Voyager Optimus Prime | Bendaroos Mega Pack | Monopoly City Game | LEGO Minotaurus | vTech Kidizoom Camera | Mega Bloks Battle Strikers | cBeebies Waybuloo | Ben 10 Alien Chamber | Transformers Bumblebee Helmet | Bakugan Battle Arena | Rubiks 360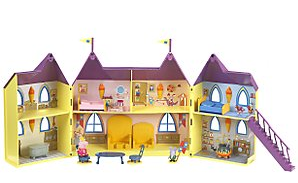 Peppa Pig Princess Palace
With the fantastic new Peppa Pig Princess Peppas Royal Palace Peppa can entertain all her friends and family in her enchanting new royal palace and you're invited to join her inside. Peppa and her family have more room to play so your little ones can have endless fun helping Peppa make her bed, cook dinner and dance around in the banqueting hall with all her friends.

The Peppa Pig Princess Palace is a home fit for a Princess and this beautiful Palace folds out to reveal numerous rooms including a fantastic banqueting hall and accessories. Accessories included are Peppa Pig King & Queen thrones, beds, table & chairs, oven cauldron and two guardsmen to look after Peppa and her Family!

The Peppa Pig Princess Peppas Royal Palace folds away and allows your children to take it with them so they can be with Peppa Pig wherever they are.

The Peppa Pig Princess Palace is yet another fantastic toy destined for the Christmas Toy Top 10 2009.
Compare Prices for Peppa Pig Princess Palace


---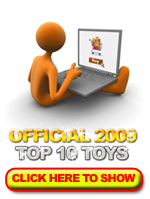 Peppa Pig
Peppa Pig revolves around the life of Peppa, a young girl pig, and her family and friends. Each of Peppa's friends is a different sort of animal each having a first name starting with the same letter as the type of animal they are that also being the same with their surname.

Peppa Pig's friends are the same age as her, and her younger brother George's friend Richard is the same age as him. Episodes of Peppa Pig tend to focus on every day activities such as attending playgroup, going swimming, visiting their grand parents, etc.


Peppa Pig characters all wear clothes, live in houses, and drive cars, but still display characteristics of the animals which they are. Peppa Pig and her family snort like pigs when having conversations and like to jump in muddy puddles.

The other animals also make their respective noises when they talk, with some exhibiting other characteristics, such as the Rabbits liking to carrots. The Rabbits are also the sole exception to the rule of human-like habitation as they live in a burrow but it does have windows and is furnished in the same way as the other houses.
Peppa Pig Princess Palace Reviews
"I bought this for my daughter who absolutely loves Peppa Pig! The Peppa Pig Princess Palace is really simple for little ones to use and the palace folds together and can store all the furniture inside. Peppa Pig fans will love it like my little ones do and i think if it was a little cheaper parents like me would love it as much too"
---
Home Page | Best Christmas Toys 2009 | Top 10 Christmas Toys | Top 10 Christmas Gifts 2008 | Childrens Christmas | Christmas Toys | Christmas Presents | Christmas Gifts | Waybuloo | Ben 10 Alien Chamber | Peppa Pig Princess Palace | Transformers Bumblebee Helmet | Bop It | VTech Kidizoom Camera | Bakugan Battle Arena | Playstation 3 Slim | DSi Console | Rubiks 360 | Christmas | Christmas Cards | Christmas Decorations | Christmas Gifts at Amazon | Christmas Gifts at Dixons | Christmas Gifts at John Lewis | Christmas Gifts at Toys R Us | Sitemap