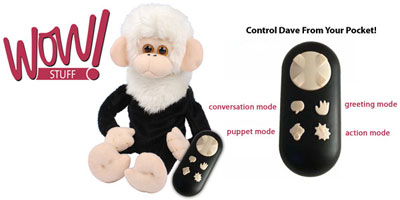 Dave The Funky Monkey
Dave the Funky Monkey is a cheeky interactive monkey toy that sits on your shoulder and sleeps, burps and talks with around 30 different actions and has to be one of the most amazing robotic toys ever seen.

Dave the Funky Monkey works by having tiny electronic motors all over his body, meaning you can make him move and act in a realistic manner just with a touch of the included remote control. Dave the Funky Monkey interacts with you as well as others, he could be waving, whispering in your ear, looking around and laughing or amusingly chattering away to himself however the fun really starts when you combine the actions together, making the possibilities seemingly endless and letting him develop his very own personality. Dave the Funky Shoulder Monkey is a fantastically entertaining toy for kids or adults and your friends and family will go absolutely crazy when they see him!
Compare Prices for Dave The Funky Monkey


---
Dave the Funky Monkey comes with a special harness included and has been built with cutting edge robotic technology, his simple to use controller activates over 30 movements with accompanying sounds allowing hundreds of behavioural sequences. Dave the Funky Monkey has a combination of monkey-like squeaks and mini phrases, he is able to make himself understood and his human hand and head movements make him a fantastic interactive experience.

Just picture yourself strutting down the street with Dave the Funky Monkey on your shoulder and watching everyone's faces as you wander by!
Dave The Funky Monkey Product Features;
* Dave the Funky Monkey is an electronic toy that can move his arms, head and speak!
* The Sound Machine measures at approx 6 cm x 10.2 cm x 2 cm
* Over 30 different actions including waving, burping, dancing, nodding his head blowing raspberries!
* Dave the Funky Monkey takes 4 x AA batteries (included) and the remote control takes 1 x 1.5V cell battery (included)
* Suitable for monkey lovers aged 4 to 140!


Dave The Funky Monkey Technical Details;
* Robotic monkey companion
* Remote control operated
* Comes with shoulder strap to fix Dave securely
* Approximately 20cm tall
* Over 30 different actions including:
o Nods head
o Shakes head
o Hi-fives
o Farts
o Waves
o Looks left and right

---
Dave The Funky Monkey | Fireman Sam Deluxe Fire Station Playset | FurReal Go Go Walking Pup | Jet Pack Buzz Lightyear | Lego City Airport 3182 | Thomas & Friends Misty Island Playset | Monoploy Revolution | Moon Dough Big Barn Playset | Nerf N-Strike Stampede ECS Blaster | Paper Jamz Guitars & Drum Sets | Pumpaloons | Stinky The Garbage Truck | Sylvanian Families Motorcycle & Sidecar | Sylvanian Families Regency Hotel | VTech Kidizoom Video Camera | Zhu Zhu Grooming Salon