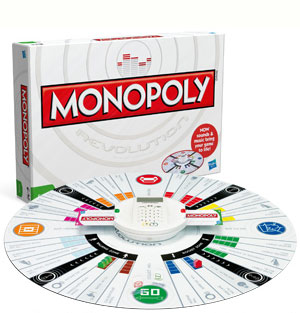 Monopoly Revolution
Monopoly Revolution is Monopoly as you have never seen it before with a circular board and all new graphics. Monopoly Revolution with it's Electronic Banking Unit, built in songs and sound effects will make playing it a totally new experience. The selection of music & sounds each relate to a Chance outcome with some being good and others bad giving the element of luck.

With Monopoly Revolution players listen for the sound & read the scrolling screen to tell them what to do next. Players can also decide to risk it & take the chance themselves or give it to an opponent. The electronic banking feature of Monopoly Revolution replaces the cash in the game with cards and for the first time ever you have a Monopoly Board with sounds & music that can influence your game play.
Compare Prices for Monopoly Revolution


---
Travel around the Monopoly Revolution board buying, selling & dealing in properties, land on one of the 4 new Zone spaces to take a Chance and use the new electronic unit then decide if you want to take a chance card for yourself or do you want the chance card to affect other players? Once you have decided which player it will affect, look at which zone they are in on the board - the cycle zone, the car zone, the rocket zone or the walking zone. Confirm this to the other players by playing the music that represents where they are on the board and then let fate take its role.

If you did'nt want to risk a Chance card you could move to the next unowned property and put it up for auction for quicker gameplay. If all properties are owned the fantastic new Monopoly Revolution Forced Deal rule would allow you to switch a property you own with one from a player of your choice. Randomly the electronic unit of Monopoly Revolution will give out a chance card, and if it's your turn you know what to do.

The Monopoly Game has never looked so cool, round is the new square, white is the new green, sound is the new way - Monopoly Revolution is the new Monopoly !!!
Monopoly Revolution Product Features;
* Revolutionary round board to celebrate Monopoly's 75th Anniversary
* Play in style with funky new movers
* Electronic sounds and music you can switch on or off
* Hear the sound of that jail door 'slamming' or a party tune when you pass go
* Features electronic banking

Monopoly Revolution Box Contents;
# 1 Gameboard
# 1 Game unit
# 6 Monopoly bank cards
# 6 Movers
# 30 Title deed cards
# 32 Houses
# 12 Hotels
# 2 Dice and Instructions

---
Dave The Funky Monkey | Fireman Sam Deluxe Fire Station Playset | FurReal Go Go Walking Pup | Jet Pack Buzz Lightyear | Lego City Airport 3182 | Thomas & Friends Misty Island Playset | Monoploy Revolution | Moon Dough Big Barn Playset | Nerf N-Strike Stampede ECS Blaster | Paper Jamz Guitars & Drum Sets | Pumpaloons | Stinky The Garbage Truck | Sylvanian Families Motorcycle & Sidecar | Sylvanian Families Regency Hotel | VTech Kidizoom Video Camera | Zhu Zhu Grooming Salon