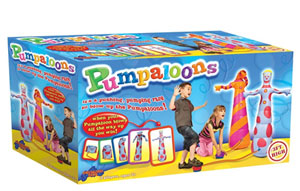 Pumpaloons The Pump Up Game
A must have Christmas gift for 2010 is the hilarious Pumpaloons The Pump Up Game from Drumond Park. Pumpaloons is a very simple yet great fun activity game for 2 players made by, two children race to pump up a pair of fun inflatable characters called Stripeyloon and Spottyloon which bob and weave about as they are slowly blown up. Simple to set up to begin with you simply insert the pump valve into your Pumpaloons then firmly insert the tube tip into the blue pump valve. You're then ready to start pumping with your feet, hands, or any part of the body you choose.

The aim of the game is to stamp or push down on the attached pumps to make the Stripeyloon and Spottyloon inflate up to 3ft in height with the winner being the first to hear their Pumpaloon sound it's whistle.

There's plenty of squashing, pumping, romping, stomping action to be had with Pumpaloons! push with your hands, pump with your foot...stomp with your feet...anything goes with the fun and active Pumpaloons The Pump Up Game.
Compare Prices for Pumpaloons The Pump Up Game


---
To start again, simply deflate the Pumpaloons by pulling out the tube tip, keeping the nozzle in the Pumpaloons, then scrunch the heads up and squash them down, then fold in the arms on top of the heads. Keep pushing down on the top of the Pumpaloons pushing each section down into the next one below. Each section should nest inside each other when completely deflated. Now you are ready for another fun race with your Pumpaloons.

Pumpaloons comes with 2 PVC inflatable characters, 2 durable PVC foot pumps and is an excellent way to encourage competetive play.
Pumpaloons Product Features;
* Healthy fun pre-school activity game
* Race to inflate the two 3' Pumpaloons
* Use any part of your body to work the pump
* Can be used in or out of doors
* For 2 players
---
Dave The Funky Monkey | Fireman Sam Deluxe Fire Station Playset | FurReal Go Go Walking Pup | Jet Pack Buzz Lightyear | Lego City Airport 3182 | Thomas & Friends Misty Island Playset | Monoploy Revolution | Moon Dough Big Barn Playset | Nerf N-Strike Stampede ECS Blaster | Paper Jamz Guitars & Drum Sets | Pumpaloons | Stinky The Garbage Truck | Sylvanian Families Motorcycle & Sidecar | Sylvanian Families Regency Hotel | VTech Kidizoom Video Camera | Zhu Zhu Grooming Salon