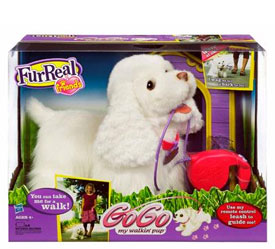 FurReal Go Go Walking Pup
The all new FurReal Go Go Walking Pup is the latest addition to Hasbro's Fur Real Friends range and comes with 18 unique sounds to express her mood. Go Go Walking Pup has an incredibly realistic barking sound amongst other great sound effects meaning you will always know how she is feeling.

With the Go Go Walking Pup you can walk your very own dog and it's realistic barking, walking movement and responses bring her to life. Attach the lead to the FurReal Go Go Walking Pup and you are in charge with every movement and steering control.
Compare Prices for FurReal Go Go Walking Pup


---
Go Go Walking Pup has several touch sensors located on her body and head that bring her to life when she is stroked, hugged or petted making FurReal Go Go Walking Pup the most interactive robot pet available today. When you want to take Go Go My Walking Pup for a walk a fashionable purple lead comes included in the box which simply attaches to her collar so she can walk with you. Your little girl wouldn't have to worry bout being dragged off as there is a controller built into the lead so that you she can direct Go Go Walking Pup where she wanted her to go.

In addition, you can print out your very own personalised adoption certificate.

FurReal Go Go Walking Pup is a truly loveable, cuddly plush interactive puppy dog who just loves to be played with and the more attention she is given the more she will respond. She also has a delightful personality so every little girl will not fail to fall in love with Go Go Walking Pup.

From neighborhood strolls to playing in the park there's not anywhere Go Go Walking Pup doesn't want to walk with you and while you are out exploring together she will bark and wag her tail to show you just how much she's enjoying herself.
FurReal Go Go My Walking PupTechnical Details;
* Walk your very own dog, with GoGo Walking Pup
* Realistic barking and walking movement
* Touch sensor reponses bring GoGo Walking Pup to life
* Attach GoGo's lead and you are in charge
* GoGo has 18 unique sounds to express her mood
* Personalize and print out your own adoption certificate
---
Dave The Funky Monkey | Fireman Sam Deluxe Fire Station Playset | FurReal Go Go Walking Pup | Jet Pack Buzz Lightyear | Lego City Airport 3182 | Thomas & Friends Misty Island Playset | Monoploy Revolution | Moon Dough Big Barn Playset | Nerf N-Strike Stampede ECS Blaster | Paper Jamz Guitars & Drum Sets | Pumpaloons | Stinky The Garbage Truck | Sylvanian Families Motorcycle & Sidecar | Sylvanian Families Regency Hotel | VTech Kidizoom Video Camera | Zhu Zhu Grooming Salon