Peppa Princess Palace | Kevins Action Cruiser | Sylvanian Caravan | GX Tightrope Terror | Voyager Optimus Prime | Bendaroos Mega Pack | Monopoly City Game | LEGO Minotaurus | vTech Kidizoom Camera | Mega Bloks Battle Strikers | cBeebies Waybuloo | Ben 10 Alien Chamber | Transformers Bumblebee Helmet | Bakugan Battle Arena | Rubiks 360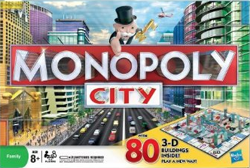 Monopoly City Board Game
The old favourite: revamped Monopoly City!

Sure keep all the family entertained on Christmas day is the fabulous Monolopy City from Hasbro, the fantastic latest edition of the classic board game! With Monopoly City build up your very own city and watch your fortunes grow and grow!

Build your city from the start, developing properties in 3D in the centre of the board. From stadiums to skyscrapers develop your buildings cleverly to get maximum profit and bring the price of your opponent's property down! Hasbro's Monopoly City makes a great Christmas gift idea!
Compare Prices for Monopoly City


---
Monopoly City Product Features
* Build up your city and watch your fortunes grow
* Develop buildings to maximise profit and bring the price of your opponents' property down
* Develop 3D properties in the centre of the board, from stadiums to skyscrapers
* Includes deal making button
* Requires 2 x AAA batteries (not included)
Monopoly City Box Contents
* 1 x Game board
* 1 x Banker unit
* 6 x Movers
* 28 x Title Deed cards
* 16 x Chance cards
* 16 x Community Chest cards
* 6 x Monopoly Bank cards
* 32 x Houses
* 12 x Hotels
* 2 x Dice
* Instructions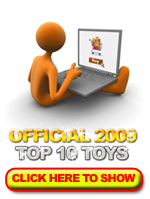 Monopoly City Reviews
"Monopoly is my all-time favourite board game and I got Monopoly City not long after it was released and have not stopped playing it since. It's best summed up by saying it's similar to Monopoly but different too. The Monopoly City board is arranged in a similar way to the original and the aim of the game is again to move around the board, collect rent and buy properties and the richest player wins. Monopoly City has skyscrapers that double your rent if you own all properties in a colour group and the Monopoly Tower doubles the rent of all of your properties! Overall, Monopoly City is a brilliant game that has kept the core features in that made the original Monopoly great but altered a few things to make the game arguably more fun and exciting than the original. If you loved the original Monopoly but want a different twist to the game buy Monopoly City"
---